Coming Full Circle
After years of naturalising with almost bottomless energy Darwin and the Beagle were on their way home. But they still had a long way to go…
Polynesia
The Beagle had turned its back on South America, mission complete, and was now beginning the voyage home. The 3200 mile journey to the Polynesian islands took only 3 weeks. Despite their natural beauty Darwin, now quite homesick, found them 'uninteresting'. Although he enjoyed the tropical luxuriance and some long treks in the volcanic peaks, collecting samples and specimens as always, it seems the island's inhabitants that most caught his eye were the people. He noted their appearance; the women shaved the tops of their heads, why? 'it is the fashion & that is answer enough at Tahiti as well as Paris' Darwin concluded.
He was most impressed though by the response of the islanders to missionaries. It was part of Britain's expanding empire to send out religious young men to educate and 'civilise' native peoples. Darwin, with his Anglican upbringing, felt they were doing a splendid job in turning the reportedly savage locals to a more British way of life. He wrote then that the 'state of morality & religion is highly creditable' and would in later years regularly give money to help fund the education work of missionaries.
Down Under
Their next ports of call were New Zealand and Australia, where Darwin was again impressed by the missionaries and the local natives. Meeting with a group of aborigines, he was shown how to throw boomerangs, fighting sticks and other aspects of the Aborigines' traditions. In Australia, compared to his endless energy in South America, Darwin achieved little. Perhaps now longing for home his usual productivity dropped and much of his time was spent either being shocked by the rough ex-cons or dining with wealthy upstarts. Although Darwin would, many years later, make enquires as to the opportunities available for gentlemen in Australia at this time he was little impressed. As the Beagle left the Australian coast for the last time, Darwin penned in his diary: 'Farewell Australia, you are a rising in fact & doubtless someday will reign a great princess in the South; but you are too great an ambitious for affection, yet not great enough for respect; I leave your shores without sorrow or regret'.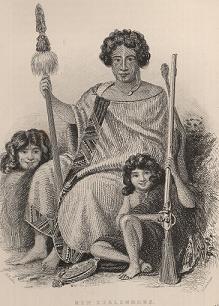 The Beagle made a few further stops on the long trip home, most notably at the Keeling Islands in the Indian Ocean, where Darwin took the opportunity to study coral reefs. He would later write up his notes on corals and publish them as a book. His theory on how coral islands formed replaced then accepted alternatives and has since been proved to be wholly correct; this was Darwin's first theoretical triumph!
And Home...
The Beagle landed back in England on 2nd October 1836. Darwin immediately set off for his family home, getting there at night; he found his family asleep and did not wake them. Next morning, oblivious to Darwin's return his family were having breakfast; in walked a young man who had seen much of the world but whom they had not seen for 5 years. No doubt he had changed in appearance greatly, as his father remarked: 'Why, the shape of his head is quite altered.'
Darwin was not long home before he was back to work, sorting his specimens and arranging for them to be sent off to experts. He was pleasantly surprised too to find out that in his absence his old mentor John Henslow had been championing his name as a young, up-and-coming scientist and had published extracts of many of his letters and details of specimens Darwin had sent home. Thanks to this Darwin's name was already known on his return and so he could begin editing his notes and diaries for publication, and digesting the lessons he had learned from his voyages.
Written by Stephen Montgomery
References & Further Reading
The Autobiography of Charles Darwin
by Charles Darwin (Edited by Francis Darwin), The Thinker's Library: 1929
Charles Darwin
by Cyril Aydon, Robinson: 2003
Darwin
by John van Wyhe, Andre Deutsch: 2009
Darwin
by Adrian Desmond & James Moore, Penguin: 1991
Darwin: Discovering the Tree of Life
by Niles Eldredge, WW Norton & Co.: 2005
Journal of Researches
by Charles Darwin, 1839 (any edition)