Darwin & Christ's College
'upon the whole, the three years I spent at Cambridge were the most joyful of my happy life'
Darwin's time at Christ's College was very important for him. Despite his later claim that 'during the three years which I spent at Cambridge my time was wasted, as far as the academical studies were concerned' it was at Christ's that he became truly hooked on science. Nowadays his legacy continues to inspire the students who have the opportunity to follow in the great man's footsteps.
Of course, the college is very keen to honour its most famous alumnus and visitors are welcome to come and see Darwin's old haunts and the College's celebrations of him. Below are some of the things you can see in Christ's. For more information about visiting click here.
Darwin's Time At Christ's
Darwin was admitted to Christ's College, Cambridge on 15th October, 1827. He had failed to become a man of medicine so at Christ's he was to be trained to become a man of God. That didn't really go according to plan either. Although Darwin eventually did quite well in his final exams, most of his three years was spent eating exotic meats with his Glutton Club, drinking a bit too much, riding his horse, and of course collecting beetles. Luckily for us, Darwin became a devoted student of John Stevens Henslow and later Adam Sedgwick and became determined to make the natural sciences his life's work. Read more about Darwin's student years.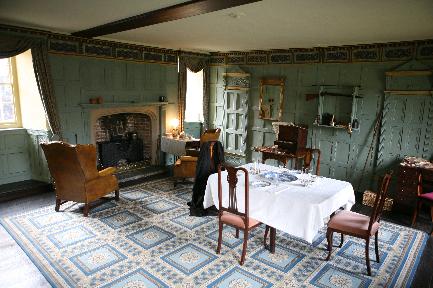 Darwin lived briefly on Sidney Street before moving into room G4 in the 16th Century buildings of first court, where he stayed until he graduated in 1831. Darwin would have had the privilege of being woken up and having breakfast brought to his room! He was also allowed to keep a dog, and apparently got away with using his shotgun to blow out candles. None of this is allowed any more…
For the first time since 1909 you can now visit Darwin's room. As part of the 2009 celebrations the room has been painstakingly restored to how it would have been when Darwin lived there. The paint has been analysed, fabrics have been researched and pillows have been debated over. Every last inch, right down to the carpet has been considered and furniture has been acquired or borrowed to accurately represent Darwin's student possessions. These included a Double-Barrelled percussion gun, his (actual) beetle cabinet, bird skins, insect sweeping nets, a microscope and Sappho, Darwin's dog. Unfortunately Sappho has not survived.
The room is open to the public Wednesday and Thursday 10.00-12.00 and 14.00-16.00, and Saturday 14.00-16.00. Private school visits can be arranged for Fridays via the librarian. The room will also be open on Bank Holidays: 10th and 13th April and 31st August from 10.00-12.00 and 14.00-16.00. Check Christ's College website for more information
Darwin In The Old Library
The college keeps two libraries, one for students' routine use and one, the Old Library, which houses 25,000 early printed books and manuscripts. The Old Library's collections include priceless material related to Darwin, including letters exchanged between Charles and his cousin (and fellow beetle enthusiast) William Darwin Fox. The letters paint a vivid picture of just how much the pair avoided lectures and chapel in favour of riding on the Fens, playing cards and catching beetles. As part of the college's Darwin celebration, the Old Library is holding a special Darwin 2009 exhibition to allow the public to see its Darwin collections
The Old Library is open at the same times as Darwin's room.
The Darwin Sculpture Garden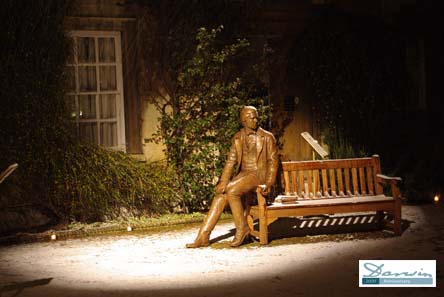 Another 2009 project has been the creation of a Darwin Sculpture garden in front of New Court. The garden centres round a newly commissioned sculpture of a 22 year old Darwin, the age he was during his final year at Christ's. Read more about the sculpture and the artist, also a Christ's graduate, Anthony Smith .
The plants in the garden have been chosen to represent Darwin's voyages around the world on the H.M.S. Beagle. They include Ivies and Hollies endemic to the Canary Islands (the Beagle's first stop), Dombey's Southern Beech which Darwin admired in southern Chile, a host of other South American natives such as the Chinchin (which smells of vanilla), the monkey-puzzle tree, and Berberis darwinii, a species of Barbery discovered by Darwin in 1835. The Galapagos islands, Polynesia, Australia and South Africa are represented too. It's a great place to take in some of the many sights which inspired a budding 22-27 year old scientist.
The Portico
A bust of Darwin sits in the Portico, behind 3rd Court, looking out over the waterway that leads into the Master's Garden which is overshadowed by beautiful flowering trees. The College has installed four panels under the portico which detail Darwin's early life, his time at Christ's, the Voyage of the Beagle and his later life.
Written by Stephen Montgomery